Here's the Continued story from The Beginning! The Beginning was my first chaptered story here and it was one of the most fun ones I've written! Take a look! and let me know what you think! Here is part
8!
So far it Features:


as Claw


as Ace
and Me.

Spike~


What Yu-Gi-Oh! Character Are You?
Hosted By theOtaku.com: Anime
Enjoy!

Ouran high School!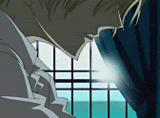 Yu YU Hakusho



Sesshomaru